Pompano Beach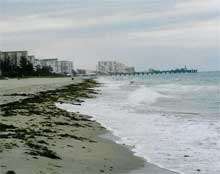 Pompano Beach has always welcomed its many visitors with beautiful beaches, breathtaking sunrises and friendly hospitality and the tradition continues today, only now with so many other exciting activities to choose from, everyone will find something to do and see.
With three and a half miles of white, pristine beaches Pompano Beach will surely draw those who enjoy a quite, relaxing stroll, with the refreshing Atlantic Ocean gently lapping the shore, or for those seeking more action, a trip to Pompano Park Racing & Poker to watch and cheer on their favorite horse and driver will be more to their liking.
Fishing, boating, scuba diving and more are here to enjoy, along with major sporting events only a short drive away. Some of the most challenging golf courses you will find anywhere can be found in Pompano Beach as well as great shopping in many fine boutique shops and the new, completely renovated Pompano Citi Centre Mall.
For those who enjoy great food, Pompano Beach has some of the finest restaurants in South Florida within minutes of wherever you are.