Flagler Village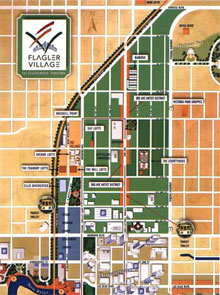 Flagler Village is located just north of downtown Fort Lauderdale. Stretching from Broward Boulevard north to Sears Town, and from Federal Highway to the Florida East Coast Rail­way corridor, it's a reincarnation of the historic Flagler Heights neighborhood. Scores of projects have been approved or are in the works in the Flagler Village area. An official Community Redevelopment Agency area, it has been considered blighted for years, and only recently became popular to residential developers.

One of the most prominent developers, Alan Hooper is local and respectful of our history, incorporating brick facades from the 1920's and those along the Florida East Coast Railroad tracks, into the new buildings and landscape.  Incorporating the old with the new - preserving a bit of history. Alan Hooper and his architect for many of the new loft projects in the village, Mike Krupnick "are not looking at the buildings individually, but at the Flagler Village as a whole composition"  new streets, sidewalks, lighting, and a whole new ambiance are planned as this "Live/Work/Play Community" begins to emerge. 

Many of the projects planned for the village are Loft Projects.  Current economic conditions have slowed down the development, to the left is a partial listing of the projects currently under construction or completed.

The prices in Flagler Village are generally
from the mid $200,000's to the $900,000 range.