Use this column to select Ft. Lauderdale Neighborhoods by Name - or -

Fort Lauderdale
Single Family Home
Neighborhoods

•

•

•

•

•

•

•

•

•

•

•

•

•

•

•

•

•

•

•

•

•

•

•

•

•

•
Fort Lauderdale - Real Estate | Homes | Condos for Sale
Fort Lauderdale Real Estate web site
Jassamine Redington
. As a Broker Associate, I am very familiar with all the condos and real estate properties along the Fort Lauderdale, Pompano Beach, Hillsboro, Boca Raton oceanfront. I look forward to the opportunity to assist you with purchasing your next home; condo, vacation property or selling your property in the Ft. Lauderdale area. I am a full time Realtor with Condos & Castles Real Estate, Inc. with over sixteen (16) years selling Fort Lauderdale, FL. area real estate.
Please see several of my past client recommendations.
Contact me today with questions about buying or selling in the Fort Lauderdale area by email. I am well versed in Short Sales and Foreclosure property and all available real estate properties from Dania north to Delray Beach..
All Fort Lauderdale Real Estate Condos and single family home listings provided on this site are automatically updated each evening. If you have questions or wish more information, please email me.
Fort Lauderdale offers an outstanding quality of life, highlighted by a semi-tropical climate, rich natural beauty along with an array of cultural, entertainment and educational amenities.
In Fort Lauderdale's downtown area, a variety of new construction condos allow you to enjoy the famous Riverwalk, Himmarshee and Las Olas areas along the New River. Walk along Las Olas Boulevard and take in the quaint shops, great restaurants, museums or just enjoy watching the people and yachts.
Auberge Condo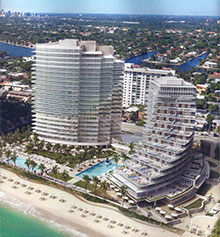 On Ft. Lauderdale Beach
CALL ME AT 754-264-6226
New condos for sale on Ft. Lauderdale beach provide the opportunity to walk, jog or skate along the beach front or just sit and enjoy the tropical breezes while enjoying a latte, lunch or dinner at a local sidewalk cafe.
A piece of Fort Lauderdale and the surrounding areas, such as: Lauderdale - by - the - Sea; Hallandale/Hollywood Beach; Flagler Village and Pompano Beach waits for you! Now, with the real estate market in correction and excellent mortgage rates, this is the best time to get the best buy for that vacation or retirement condo or even as investment property. Many condo & House properties are at their most attractive prices in the last several years!
The Las Olas area, is often referred to as "The Venice of America". Fort Lauderdale offers some of the most beautiful sandy beaches, luxury condos and residences, world-class yachting, sophisticated dining and shopping and the finest tropical climate to be found in the United States. We call it "Paradise".
Sabbia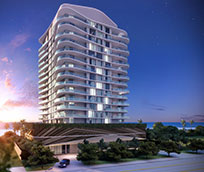 On the Beach - Pompano
CALL ME AT 754-264-6226
With emphasis on new condo and single family residential sales plus investment properties, I can provide you with the knowledge, expertise and the latest computer search technology to assist you in selecting a luxury Fort Lauderdale condominium or single family residential address suited perfectly to your lifestyle.
I have extensive knowledge and specialize in the local luxury market areas that include Hallandale Beach, Hollywood Beach, Fort Lauderdale's Las Olas Boulevard and Flagler Village, Oceanfront condos, Lauderdale by the Sea, Galt Ocean Mile, Pompano Beach, Deerfield Beach, Lighthouse Point, and Hillsboro Beach. Local waterfront communities include Harbor Beach, Coral Ridge, Imperial Point, The Landings, Bay Colony, and Sea Ranch Lakes. Other upscale neighborhoods include Rio Vista Isles, just south of downtown Fort Lauderdale, Victoria Park and the Posh home addresses of Las Olas Isles, just to the East of downtown; home to hundreds of luxury Yachts and Sail Boats. See both my featured condo and single family listings. Thank you for visiting.
"One Stop All Around Realtor"
Email me for your relocation, vacation, retirement or investment
property.
Let me recommend all the Help you need:

Mortgage Brokers
Insurance Companies
Home Warranty
Utilities
Real Estate Attorneys
Painters
Tile and Carpet Companies
Condos and Castles;
is an established boutique Real Estate Firm servicing all of the Greater Fort Lauderdale, Florida communities

Member of the Florida Association of Realtors

Member Women's Council of Realtors

Member of National Association of Realtors

Member of the National Notary Association

ICREA Member Association and have successfully completed training on making and receiving client referrals from professionals in other countries
Author - "Real Estate Terminology Guide"